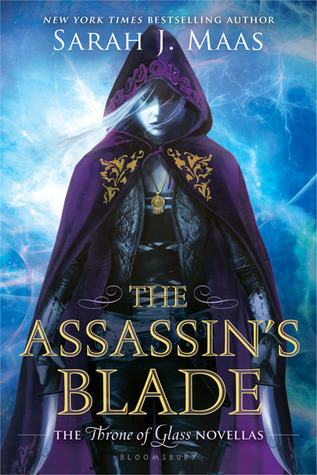 TITLE: The Assassin's Blade
AUTHOR: SJ Maas
PUBLISHER: Bloomsbury
SERIES: Throne of Glass 0.1-0.5
ISBN: 1408852594
Celaena Sardothien is Adarlan's most feared assassin. As part of the Assassin's Guild, her allegiance is to her master, Arobynn Hamel, yet Celaena listens to no one and trusts only her fellow killer-for-hire, Sam. In these action-packed novellas – together in one edition for the first time – Celaena embarks on five daring missions. They take her from remote islands to hostile deserts, where she fights to liberate slaves and seeks to avenge the tyrannous. But she is acting against Arobynn's orders and could suffer an unimaginable punishment for such treachery. Will Celaena ever be truly free? Explore the dark underworld of this kick-ass heroine to find out.
"My name is Celaena Sardothien," she whispered, "and I will not be afraid."
My friend recommended to read AB first before the rest of the series. I didn't see any bad sides for that since AB s a prequel. Some people said it will became biased but after reading it that must be the reason why Celaena Sardothien is like that. What I saw here is the bad-ass Celaena fighting for the good. Even killing people? Behind that there are many lies and truth hanging but all she think about is what she think is right. Plus I don't think I will not enjoy a book if I hate the lead character. Not all the times but knowing what are her reasons then that must be acceptable.
Celaena Sardonthien is the protégé of Arobynn Hamel, the King of the Assassins. Celaena was taught and trained by Arobynn Hamel where in why he owes her reputation. The Guild was her home along with other Assassins. Along with Sam Cortland. She was brought to many assignments by Arobynn Hamel but behind what she is fighting for, lies tag along. Greatest lies which make Celaena take the path of what Arobynn wants. It is heartbreaking.
So there are 5 parts in the story and is connected to each other. There are lots of twist, great foreshadowing, and unexpected things. At first I got boring because there are certain parts that is just some act of kindness and talkings about who might be Celaena is but Celaena is very interesting. The plot shows how independent and how great Celaena is. How she did not give up. How she fight for her love ones. How to show she is Celaena Sardothien. No one is better than Celaena because she is the best. She won't allow other people to surpass her. The plot shows how Celaena became like that. She did many great things. She did what they want her to do but they betrayed her. They know what is Celaena weaknesses. All I think about is the end is very heartbreaking. This is a prequel so it starts here and I am expecting more on the rest of the series. I am expecting how stronger Celaena is. How she made up herself. The most heartbreaking? They said the most fatal death is the stab of the dagger to someones heart. Celaena had her daggers either but one thing emotionally stab her heart. Why?! I am still crying when I remember that scene. Love is the greatest power and weakness of someone. SJ Maas broke my heart a thousand times.
It is an action-packed story with a touch of gore. I did not expect that there is something like that but it make my heart beats faster. SJ Maas is truly a queen. Those swift of daggers, the jumping and running, and the rest they are really cool.
Arobynn Hamel. I don't freaking know if I will love him or not until I ended the story! I don't know if I will bring my anger toward him or not while reading the story. He taught Celaena. He made Celaena stronger in both ways. Get ready. She is Celaena Sardothien and she is not afraid!
A story that I love even the lead character had her hard times. Celaena is indeed strong. They made her what she is. I love The Assassin's Blade even though it breaks my heart many times. I am now ready to enter the world of Throne of Glass novels. 5 thumbs up!
TWITTER | INSTAGRAM | GOODREADS